Today we release the first beta version of AdGuard v3.5 for Android. It features a long list of various impovements in its changelog, but the main focus is, without a doubt, on the freshly introduced compatibility mode with AdGuard VPN for Android.
[Enhancement] Compatibility Mode with AdGuard VPN Android app #3441
Since AdGuard VPN for Android was first introduced, there was already a way to make it work along with AdGuard ad blocker. But to make the two apps coexist in peace, you were required to jump through some hoops. Anyone who went ahead and did the thing 100% has been waiting for a proper integration ever since — and we oblige.
The best kind of compatibility is when you install two apps and they just start working together. We did exactly that. Presuming you already have AdGuard ad blocker installed, just download AdGuard VPN from Play Store (you can get there right from the ad blocker app, there's a new item in General Settings menu).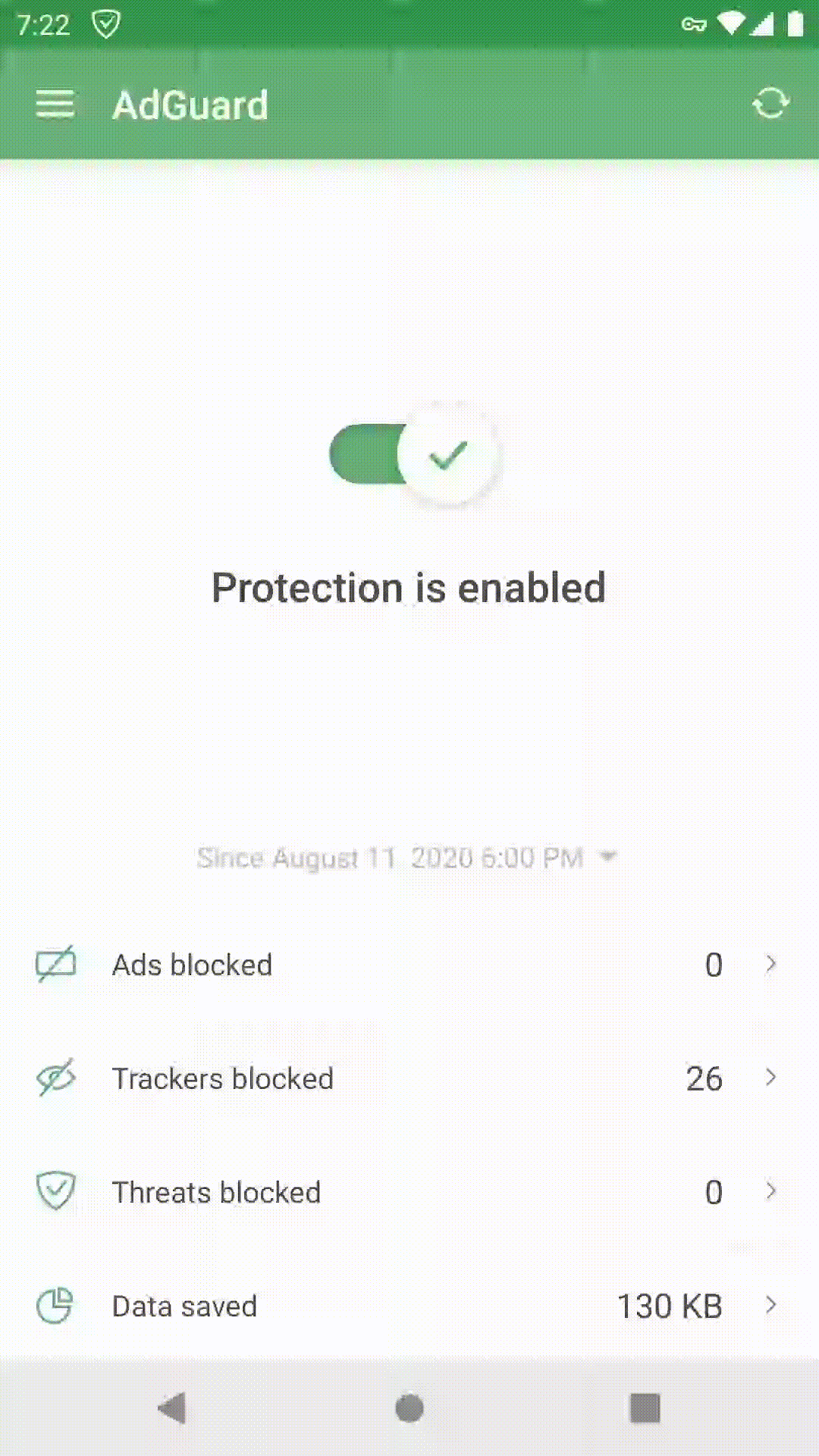 Both apps will detect each other and do everything that's needed for smooth joint work. All that will be left for you is to enjoy both ad-free Internet and all the benefits of a VPN. By the way, it works the other way around just as well: install AdGuard ad blocker on top of an already-running AdGuard VPN and you're good.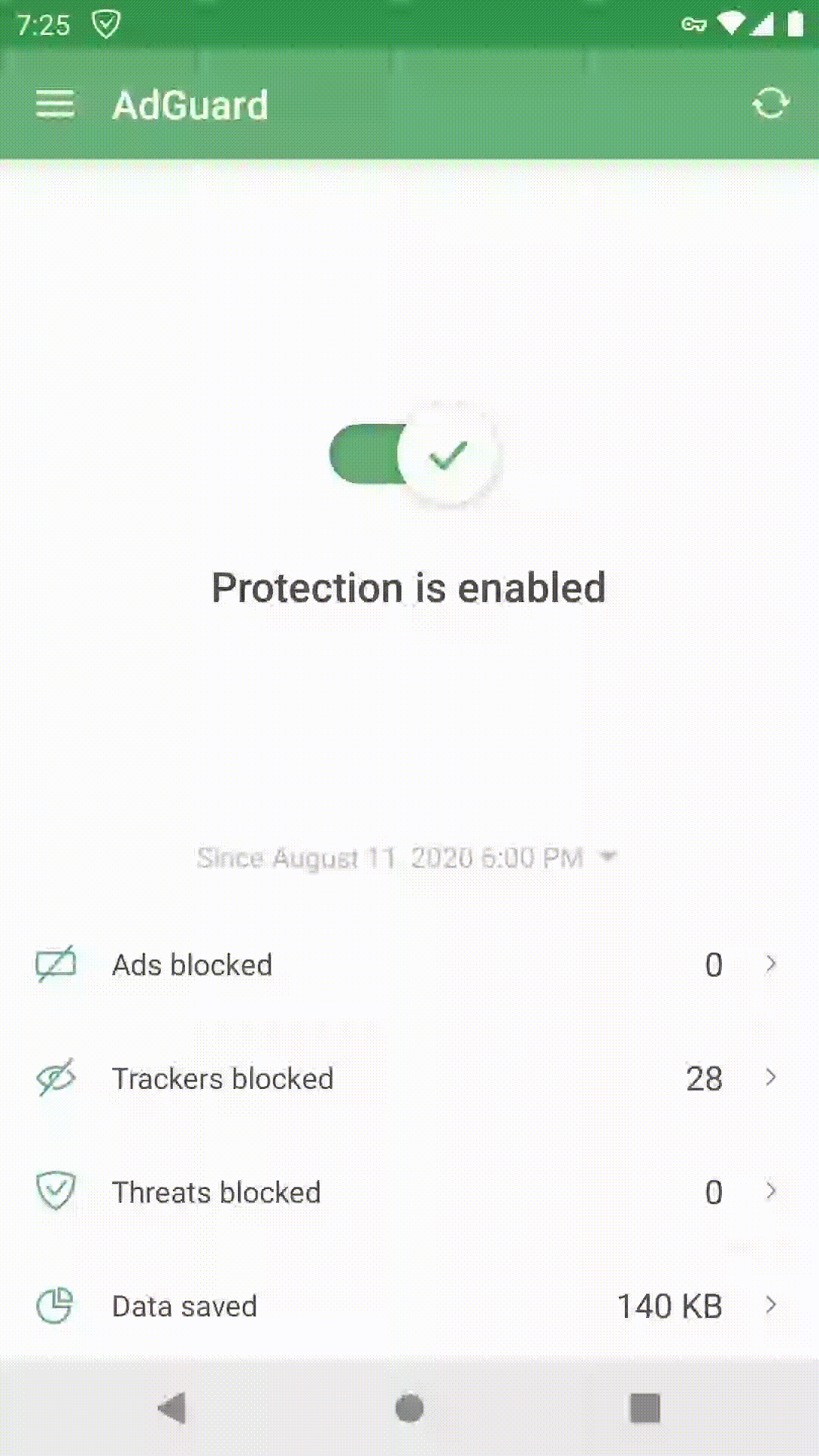 If you'd like to disable Compatibility Mode for any reason, it's very simple to do so from AdGuard ad blocker settings, just toggle the switch. Additionally, you can add AdGuard ad blocker and AdGuard VPN tiles to your device's notification bar and toggle them in one tap at your own will — thanks to Compatibility Mode the configuration will change immediately and silently.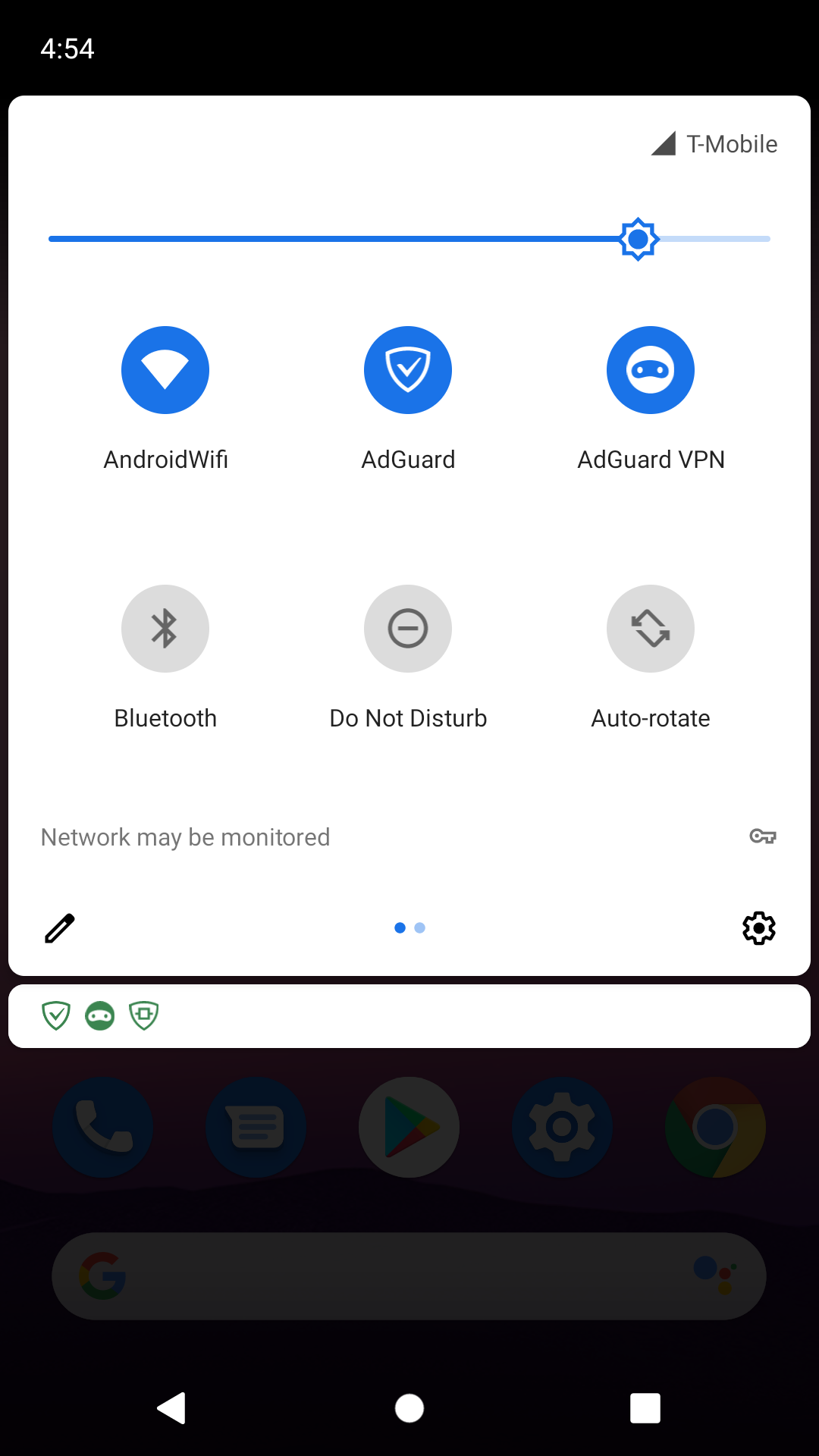 [Enhancement] Adaptive icons for app shortcuts #2656

[Enhancement] New rules are now added to the top of User filter #2962

[Enhancement] Huawei browser added to the list of default browsers #3495

[Enhancement] Firefox Fenix browser added to the list of default browsers #2861

[Enhancement] Mozilla Reference browser added to the list of default browsers #3408

[Enhancement] 'Block' button now immediately switches to 'Unblock' after adding a custom rule via Filtering Log #3012

[Enhancement] Added automation API for proxy servers #3363

[Enhancement] Added an option to disable DNS fallback #3447

[Enhancement] Extended information written to state.txt when logs are exported #3063

[Enhancement] AdGuard Simplified Domain Names filter renamed to AdGuard DNS filter #3475

[Enhancement] Enabled userscripts are now included in the query string for the web reporting tool #3288

[Enhancement] Updates screen now shown when "Check for updates" shortcut is used #3318

[Fixed] Downloads in some apps don't work properly on Android 11 #3516

[Fixed] AdGuard doesn't work on devices with Restricted Account #3299

[Fixed] First letter in the sentence is not capitalized automatically on the 'Message to support' screen #3079

[Fixed] Unnecessary "Android Private DNS is enabled" notification on Android 11 #3478

[Fixed] Toast notification for "Checking for updates" shows late #3343

[Other] Updated options for default DNS resolveres #3428

[Other] DnsLibs updated to v1.3.19

[Other] CoreLibs updated to v1.7.49

[Other] Compatibility issues

DnsLibs
[Enhancement] Added support for comments at the end of line in hosts rules #75

[Fixed] LDNS logging #73

[Other] Added upstreams sorting by RTT #39

CoreLibs