We have something special for y'all today. Not just an implementation of a new feature but the first ever implementation of a new feature! 😮 This is about DNS-over-QUIC, a new DNS encryption protocol — read on to learn more.
Ah, yes, there's also a bunch of other good stuff, too: DHCP-related changes, a .mobileconfig generator for iOS and macOS, and a handful of other enhancements and bugfixes.
DNS-over-QUIC support #2049
AdGuard Home now natively supports a new DNS encryption protocol called DNS-over-QUIC. DoQ standard is currently in the draft state, and AdGuard Home (and dnsproxy) is it's first open-source implementation.🥇
So what's good about it? 🤔 Unlike DoH and DoT, it uses QUIC as a transport protocol and finally brings DNS back to its roots — working over UDP. It brings all the good things that QUIC has to offer — out-of-the-box encryption, reduced connection times, better performance when data packets are lost. Also, QUIC is supposed to be a transport-level protocol and there are no risks of metadata leaks that could happen with DoH. 🔒
At this moment, the only major public DNS resolver that provides DNS-over-QUIC is AdGuard DNS. 😎 Use quic://dns-unfiltered.adguard.com in the upstreams settings to start using AdGuard DNS "Non-Filtering".
DHCP rework: DHCP6 support, custom DHCP options
We did a huge rework of our DHCP server implementation. Thanks to it, AdGuard Home now supports DHCP6 and allows setting custom DHCP options.
Please note that in order to set DHCP options, you'll need to edit the configuration file.
iOS and MacOS .mobileconfig generator: #2110
iOS 14 and macOS Big Sur natively support DNS-over-HTTPS and DNS-over-TLS. However, it's not that simple to configure them — you need to install a special "configuration profile" for that. 🤯 In order to make things easier, AdGuard Home can generate these configuration profiles for you. Just head to "Setup Guide" -> "DNS Privacy" and scroll to iOS.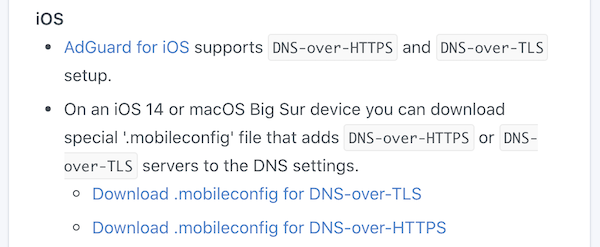 Binary transparency
AdGuard Home binaries are now signed with our GPG key and you can now easily verify that they really come from us: https://github.com/AdguardTeam/AdGuardHome/wiki/Verify-Releases
Other improvements
Fixed